Reconstruction of Integrative Islamic Education in The Transformative Profetical Education Framework
Muhamad Khoirul Umam

STAI Badrus Sholeh Kediri
Keywords:
integrative, profetic, transformative
Abstract
Scientific disruptions today, or appearing on the surface in a wide variety of scientific integration projects known as Islamization of science, integralization of science, or interconnections create complex problems with the many ideas of integrative education through transformative prophetic education. Various phenomena of the problem then there are two things that become important points that we can make the lens to see the phenomenon of illness of education today. Firstly, Education has no soul in question in education here about re-presenting the mission of religious prophetic values ​​to be presented to the public sphere. Secondly, the existence of human model as role model (uswatun hasanah). In education, especially character education that has become an agreement decision making education of Indonesia must display the human figure in the role model or model that must be imitated as according to the output of character education itself. But it aims to describe the implementation of integration of Islamic education in Islamic educational institutions from the perspective of integration between educational institutions, family and community and prophetic-based with transformative values. This research yields One offer of thinking about alternative education which is expected to reduce deadlock in developing integrative education with standard and figure of really strong and irrefutable model that is Prophet Muhammad Saw and return to activity, feeling, thinking in interpreting Al- Quran and Sunnah.
Downloads
Download data is not yet available.
References
Adz-Dzakiey, Hamdani Bakran. 2007. Prophetic Psychology: Psikologi Kenabian Menghidupkan Potensi dan Kepribadian Kenabian dalam diri. Yogyakarta: Pustaka Al Furqon.
Az-Zain, Muhammad Basyam Rusydi. 2007. Sekolah Para Nabi 1 & 2. Yogyakarta: Pustaka Marwa.
Dagum, M. 2006. Kamus Besar Ilmu Pengetahuan. Jakarta: Lembaga Pengkajian Nusantara.
Husein, Syed Ali Ashraf dan Syed Sajjad. 1986. Krisis Pendidikan Islam, terj. Rahmani Astuti. Bandung: Risalah.
Khairani, Makmun. 2013. Psikologi Perkembangan. Yogyakarta: Aswaja Pressindo.
Ma'arif, Ahmad Syafii. 2009. Islam dalam Bingkai Kemanusiaan dan Keindonesiaan. Bandung: Mizan.
Mujtahid. 2011. Tujuh Karakteristik Kepemimpinan Profetik. Malang: UIN Maliki.
Roqib, Moh. 2016. Filsafat Pendidikan Profetik: Pendidikan Islam integrative dalam Persfektif Kenabian Muhamad. Purwokerto: An-najah Press.
Shari'ati, Ali. 1996. Humanisme: Antara Islam dan Mazhab Barat, terj. Husein Anis al- Habshi. Bandung: Pustaka Indah.
Suwaid, Muhammad Nur Abdul Hafizh. 2010. Prophetic Parenting. Yogyakarta: Pro-U Media.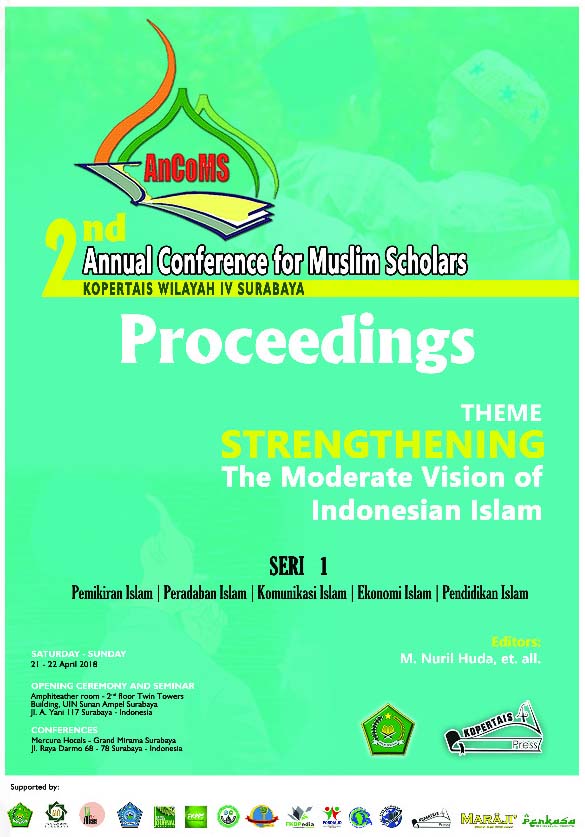 How to Cite
Umam, M. (2018). Reconstruction of Integrative Islamic Education in The Transformative Profetical Education Framework. Proceedings of Annual Conference for Muslim Scholars, (Series 1), 511-520. https://doi.org/10.36835/ancoms.v0iSeries 1.154