Meneguhkan Visi Moderasi dalam Bingkai Etika Islam: Relevansi dan Implikasi Edukatifnya
Fata Asyrofi Yahya

Institut Agama Islam Negeri Ponorogo
Keywords:
moderate, Islamic etic, pesantren.
Abstract
The academic anxiety in this paper is the emergence of pesantren which is indicated to teach radical understanding in recent times so as to create a negative stigma toward the character of Islamic boarding school in Indonesia which has been the character of the rahmat lil 'alamin. The focus of this paper is on ethical issues, where radicalism is not in accordance with the ethical teachings of Islam and against the current face of Islam in Indonesia. Therefore the first problem formulation is to reveal the values ​​of moderation contained in Islamic ethics with a philosophical approach and the second offers a model of ethical education in pesantren with an educational management approach. From the formulation of the first problem concluded that the values ​​of moderation in Islamic ethics reflected on the way of thinking and acting someone who always refers to maqaa sid al-shariah and consider aspects of ummahat al-fad}ail in the actualization space includes tadbir al-nafs, tadbir al-manzil and tadbir al-mudun. While the second problem formulation offers a model of Islamic ethics education comprehensively in boarding school by conducting reconstruction and curriculum development with approach of field of study and reconstructionist approach.
Downloads
Download data is not yet available.
References
Azm, Mahfudz Ali. al-Akhla>q fi al-Isla>m: Baina al-Naz}riyyah wa al-Tat}bi>q. Mesir: Darul Hidayah, 1986.
Abdullah, Amin. Islamic Studies di Perguruan Tinggi: Pendekatan Integratif-Interkonektif. Yogyakarta: Pustaka Pelajar, 2006.
Abdurrohman, Asep. "Eksistensi Islam Moderat dalam Perspektif Islam", Jurnal Rausyan Fikr Vol. 14 No 1, Maret 2018.
Al-Ghazali, Abu Hamid. al-Mustas}fa min 'Ilm al-Us}u>l. Madinah: al-Jami'ah al-Isla>miyyah Kulliyah al-Syari'ah, tt.
Al-Jabiri, M. Abid. al-'Aqlu al-'Akhla>qi al-'Arabi. Beirut: Markaz Dirosah al-Wihdah al-Arabiyyah, 2001.
Al-Jabiri, M. Abid. Madkhal ila> Falsafati al-'Ulu>m. Beirut: Markaz Diro>sah al-Wihdah al-Arabiyyah, 2002.
Anwar, Ali. Pembaharuan Pendidikan di Pesantren Lirboyo Kediri. Yogyakarta: Pustaka Pelajar, 2011.
Badruttaman, Nurul. "Dakwah Islam di Tengah Globalisasi: Pemikiran dan Kontribusi Tarmizi Taher", dalam Hery Sucipto (ed), Islam Madzhab Tengah: Persembahan 70 Tahun Tarmizi Taher. Jakarta: Grafindo Khazanah Ilmu, 2007.
Baso, Ahmad. Islam Nusantara: Ijtihad Jenius dan Ijma' Ulama Nusantara Jilid 1. Tangerang: Pustaka Afid, 2015.
Dhofier, Zamakhsyari. Tradisi Pesantren: Studi Pandangan Hidup Kyai danVisinya Mengenai Masa Sepan Indonesia. Jakarta: LP3ES, 2015.
Fuad, Mahsun. "Hukum Islam Indonesia: Dari Nalar Partisipatoris Hingga Emansipatoris" dalam Akhmad Sahal dan Munawir Aziz (ed.), Islam Nusantara: dari Ushul Fiqh Hingga Paham Kebangsaan. Bandung: PT Mizan Pustaka, 2016.
M. Abou El-Fadl, Khaled. Selamatkan Islam dari Muslim Puritan, terj. Helmi Mustofa. Jakarta: Serambi Ilmu Semesta, 2006.
M. Hanafi, Muchlis. Moderasi Islam: Menangkal Radikalisasi Berbasis Agama. Jakarta: Ikatan Alumni al-Azhar dan Pusat Studi al-Qur'an, 2013.
Maskawaih. Tahdhi>b al-Akhla>q. Mesir: Mat}ba'ah S}ha>bih, tt.
Masyhud, Sulthon dan Moh. Khusnuridho. Manajemen Pondok Pesantren. Jakarta: Diva Pustaka, 2005.
Mubarok, Zaki. al-Akhla>q 'inda al-Ghaza>li. Beirut: Dar al-Jail, 1924.
Muhammad, Husein. Pluralisme Gus Dur: Gagasan Para Sufi (didownload dari www.pustakaaswaja.web.id)
Munif, Abdul. "Buku Jihad Terjemahan dari Bahasa Arab dan Potensi Radikalisme Beragama di Lembaga Pendidikan" Jurnal Cendekia Vol. 15 No. 2 Juli-Desember 2017, Ponorogo: IAIN Ponorogo.
Najib Burhani, Ahmad. "Al-Tawasut} Wa Al-I'tida>l: The NU and Moderatism In Indonesian Islam", Asian Journal of Social Science, vol 40, 2012.
Runes, Dagobert D. Ed., Dictionary of Philosophy. New Jersey: LittleField, Adam & Co, 1971.
Shaleh, Badrus. Budaya Damai dalam Komunitas Pesantren. Jakarta: Pustaka LP3ES, 2007.
Tafsir, Ahmad. Filsafat Umum: Akal dan Hati Sejak Thales Sampai Capra. Bandung: PT Remaja Rosdakarya, 2013.
Van Bruinessen, Martin. Kitab Kuning: Pesantren dan Tarekat. Bandung: Mizan, 1995.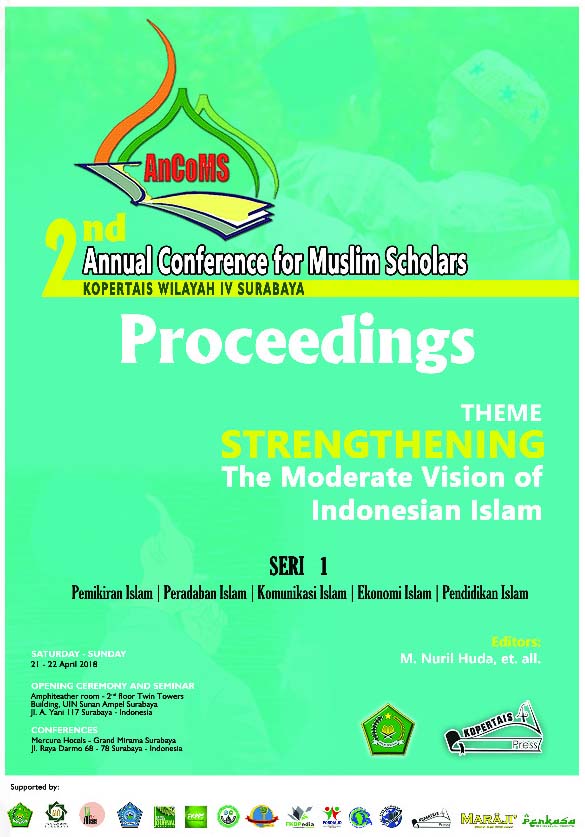 How to Cite
Yahya, F. (2018). Meneguhkan Visi Moderasi dalam Bingkai Etika Islam: Relevansi dan Implikasi Edukatifnya. Proceedings of Annual Conference for Muslim Scholars, (Series 1), 466-478. Retrieved from http://proceedings.kopertais4.or.id/index.php/ancoms/article/view/150