Teknologi-Layanan Keuangan, Literasi-Inklusi Keuangan, dan Value pada Fintech Syariah di Indonesia: Perspektif S-O-R (Stimulus-Organism-Response) Model
Abdillah Ubaidi Djawahir

Universitas Islam Raden Rahmat
Keywords:
FinTech, Islamic FinTech, S-O-R Model, Disruptive Innovation, Consumer Empowerment Trilogy
Abstract
This paper aims to describe the link between the phenomenon of information technology advancement and financial services, index of literacy and financial inclusion as well as the benefits of Islamic Financial Technology (FinTech) in Indonesia with a Model S-O-R (Stimulus-Organism-Response) perspective. Disruptive Innovation Phenomenon occurs in the Financial Services Industry, an innovation that disrupts the landscape of the Financial Services Industry globally. Starting from the industrial structure, intermediation technology, to the marketing model to consumers. All these changes encourage the emergence of FinTech. Consumer empowerment trilogy has a close relationship in achieving financial well-being. Reading the opportunities and challenges of Fintech Syariah in Indonesia with the perspective of the S-O-R Model, organism moderation toward stimulus and response generates value benefits. Is a benefit for consumers and businesses of Islamic financial services and economy.
Downloads
Download data is not yet available.
References
Achsien, Iggi H., Fintech Syariah di Indonesia. Materi Seminar Indonesia Shariah Economic Festival Surabaya 10-November-2017
Bapenas, Master Plan Arsitektur Keuangan Syariah Indonesia. Jakarta: Bapenas, 2017
Gai, Keke., et. al. A survey on FinTech. Journal of Network and Computer Applications. Elsevier, 2017
Hadad D. Muliaman, Bahan Kuliah Umum IBS tentang Financial Technology (FinTech) di Indonesia. Jakarta, 2017
Iman, Nofie., Fintech, Islamic Finance, and Its Challanges. Materi Seminar Indonesia Shariah Economic Festival Surabaya 10-November-2017
Linchi Kwok, K. L. X. (2016). Article information : International Journal of Contemporary Hospitality Management, 28(10), 2156–2177. https://doi.org/10.1108/JHOM-09-2016-0165
Muhlisin, Muniarti, Dibalik Fintech Syariah. Jakarta: Penerbit Arga, republika.co.id/28-Oktober-2017/diakses diakses 27-Maret-2018
Kuncoro, Mudrajad, Strategi Bagaimana Meraih Keunggulan Kompetitif. Jakarta: Penerbit Erlangga, 2005
Romanova, I., & Kudinska, M, Contemporary Issues in Finance : Banking and Fintech: A Challenge or Opportunity? Emerald, 2016
Ra'uf, Amrin, Intisari-intisari Inspirasional Kecerdasan Finansial. Jogjakarta: Penerbit Flashbooks, 2010
Wibowo, P. Pungky, Potensi Keuangan Syariah di Tengah Era Digitalisasi Ekonomi. Materi Seminar Indonesia Shariah Economic Festival Surabaya 10-November-2017
-----, Financial Technology: Perkembangan dan Respon Kebijakan Bank Indonesia. FinTech Office Bank Indonesia
-----, Statistik Perbankan Syariah – Desember 2017. www. ojk.go.id/20-Feb-2018/diakses 27-Maret-2018
-----, Kajian Bisnis Fintech Syariah – PT. Telkom Indonesia. Bandung: 2017
-----, Peraturan Otoritas Jasa Keuangan Nomor 76/POJK.07/2016 tentang Peningkatan Literasi dan Inklusi Keuangan di Sektor Jasa Keuangan Bagi Konsumen dan/atau Masyarakat
-----, Penjelasan Atas Peraturan Otoritas Jasa Keuangan Nomor 76/POJK.07/2016 tentang Peningkatan Literasi dan Inklusi Keuangan di Sektor Jasa Keuangan Bagi Konsumen dan/atau Masyarakat
-----, The Future of FinTech A Paradigm Shift in Small Business Finance. Global Agenda Council on the Future of Financing & Capital – World Economic Forum. Oktober 2015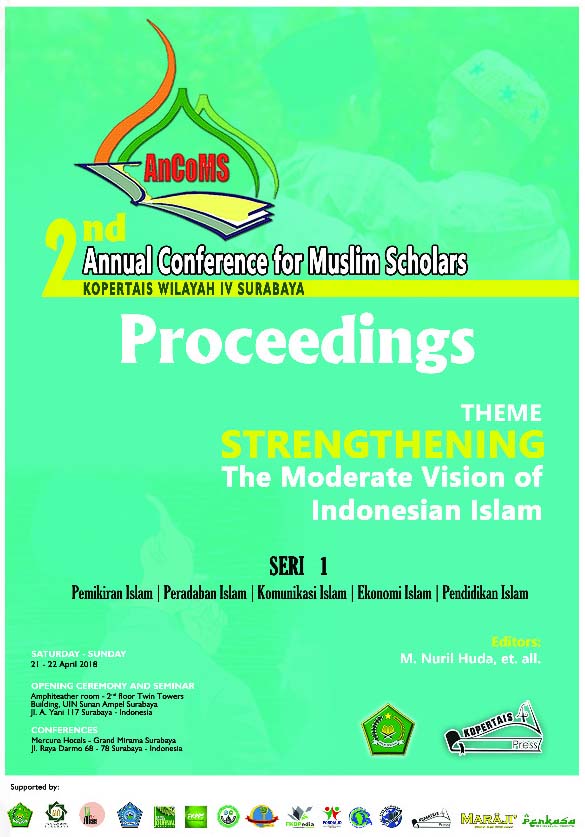 How to Cite
Djawahir, A. (2018). Teknologi-Layanan Keuangan, Literasi-Inklusi Keuangan, dan Value pada Fintech Syariah di Indonesia: Perspektif S-O-R (Stimulus-Organism-Response) Model. Proceedings of Annual Conference for Muslim Scholars, (Series 1), 439-448. https://doi.org/10.36835/ancoms.v0iSeries 1.147