Mbah Kholil Bangkalan: Titik Simpul Relasi Ulama Madura, Nusantara dan Haramain
Muniri Muniri

STAI AL-HAMIDIYAH BANGKALAN
Keywords:
Mbah Kholil, Kyai Labang, Node Point
Abstract
Mbah Kholil Bangkalan is a phenomenal Kyai, he was having role to educate his studens to be knowledgeable, insightful, firmness and integrity, both of religion and nation. His wisdom is combined with ability to give ijazah of inner strength to resist Dutch colonialism. All The Kyai at that time, were making ijma' sukuti (silent agreement), for santri who want to continue their study to Mecca and hwo want to build islamic boarding school, they have to have blessing from Mbah Kholil Bangkalan. Based on ijma' sukuti, he was called Kyai Labang. Almost the Kyai phenomenal in Java-Madura, even up to foreign countries quite a lot of geneologis related to the scientist with Mbah Kholil Bangkalan. The genealogical relationship of the scientists will be requied by studying or ever "nyantri" or single teacher. This relationship, is very useful to build a network of resistance against Dutch colonialism and Islamic da'wah.
Downloads
Download data is not yet available.
References
Ali bin Badri Azmatkhan, Dari kanjeng Sunan sampai Romo Kiai Muhammad Kholil Bangkalan; Telaah Sejarah dan Riwayat Hidup, Bangkalan: IKAZI, 2007)
Ahmad Baso, Pesantren Studies 2A; Kosmopolitanisme Peradaban Kaum Santri di Masa Kolonial, (Tangerang: Pustaka Afid Jakarta, 2013)
Ahrori Dhafir, Cholil Yasin : Penderma Sejati Tiada Henti, (Bangkalan : PP. Al-Falah AlKholiliyah, 1432 H)
Azyumardi Azra, Jaringan Ulama Timur Tengah dan Kepulauan Nusantara Abad XVII dan XVIII; Akar Pembaruan Islam, (Jakarta: Kencana, 2004)
Martin Van Bruinessen, Kitab Kuning, Pesantren dan Tarekat, (Yogyakarta: Gading Publishing, 2012)
Fuad Amin Imron, Mbah Kholil Bangkalan; Penentu Berdirinya Nahdlatul Ulama, (Surabaya: Khalista, 2012)
Muhammad Rifa'i, KH. M. Kholil Bangkalan, Biografi Singkat 1820-1923, (Yogyakarta: Ar-Ruzz Media Group, 2010)
Mien Rifa'i, Manusia Madura; Pembawaan, Perilaku, Etos Kerja, Penampilan, dan Pandangan Hidupnya seperti Dicitrakan Peribahasanya, (Yogyakarta: Nansa Aksara, 2007)
Muniri Chodri, KH. Asy'ari Umar; Ulama Mandiri Pengokoh Tradisi, Surabaya: Imtiyaz, 2012
Zamakhsyari Dhofier , Tradisi Pesantren,(Jakarta : LP3S,1982)
Zainul Milal Bizawie, Masterpiece Islam Nusantara; Sanad dan Jejaring Ulama Nusantara 1830-1945, (Tangerang: Pustaka Kompas, 2016)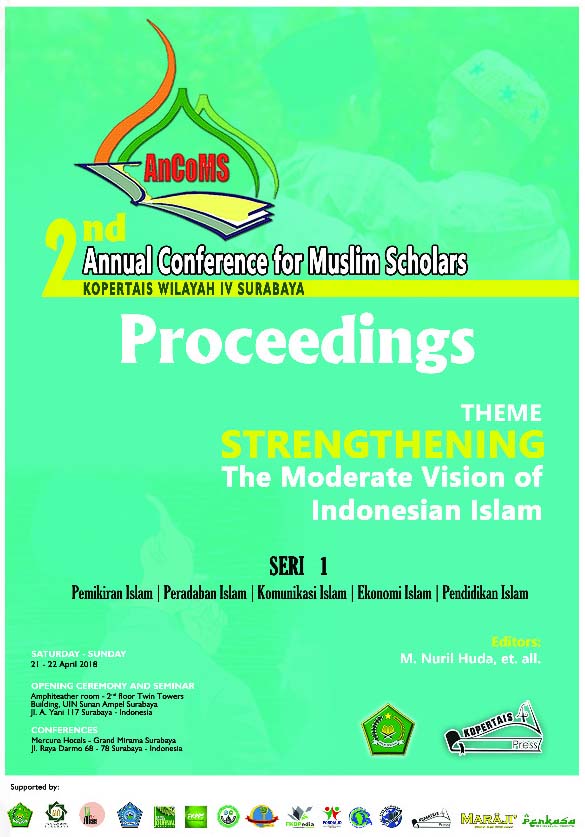 How to Cite
Muniri, M. (2018). Mbah Kholil Bangkalan: Titik Simpul Relasi Ulama Madura, Nusantara dan Haramain. Proceedings of Annual Conference for Muslim Scholars, (Series 1), 252-260. https://doi.org/10.36835/ancoms.v0iSeries 1.127