Survei Bibliografi Kajian Tafsir dan Fikih di Pondok Pesantren: Kajian Atas Materi Radikalisme dalam Literatur Pesantren dan Respon Kiai Terhadapnya
Ahmad Fawaid

Universitas Nurul Jadid Probolinggo
Keywords:
Narratives on radicalism, pesantren, Tafsīr al-Jalālyn, Fatḥ al-Qarīb, Islamic Thought
Abstract
This paper attempts to figure out the bibliographical survey of Quranic exegesis (tafsīr) and Islamic jurisprudence (fiqh) in the three largest pesantren located at "Tapal Kuda" regencies of East Java, including Pesantren Zainul Hasan Genggong, Pesantren Nurul Jadid Paiton, and Pesantren Salafiyyah Syafi'iyah Sukerojo. This survey is based on an investigation of narratives on radicalism in these pesantren in terms of the Jalāl al-Dīn al-Maḥallī and Jalāl al-Dīn al-Suyūṭī's exegesis work Tafsīr al-Jalālayn, and Abu Shujā's jurisprudential work Fatḥ Al-Qarīb. By uing reception theory, this research is aimed to reveal the ways Moslem teachers (kiai or ustādh) of tafsīr and fiqh in these pesantren responded to the common stereotypical assumptions on 'static, unchangeable, traditional' pesantren, and the ways they provide reasonable conditions of the pesantren's impunity in dealing with these stereotypes. The research of this study includes: (1) pesantren literatures on the basis of intellectual genealogical system; and (2) three strategies typically used by some kiais in reducing narratives on radicalism, such as historical, intertextual, and nationalism studies. In order to build a contra-narratives on radicalism, this research argues that Islamic jargon Raḥmatan li al-'alamīn, especially in Tapal Kuda regencies, is partly interdependent on kiai's cultural perceptions. 
Downloads
Download data is not yet available.
References
Anwar, Rosihon, dkk., "Kajian Kitab Tafsir dalam Jaringan Pesantren di Jawa Barat" dalam Jurnal Wawasan: Jurnal Ilmiah Agama dan Sosial Budaya. Vol. 01 No. 01. Bandung: UIN Bandung. 2016.
Azra, Azyumardi. Jaringan Ulama Timur Tengah dan Kepulauan Nusantara Abad XVII & XVIII. Jakarta: Prenada. 2004.
----------. "Islam in Southeast Asia: Tolerance and Radicalism" dalam CSCI Islamic Issues Briefing Paper Series. Melbourne: Center for the Study of Contemporary Melbourne University. 2005
Bruinessen, Martin Van. Kitab Kuning, Pesantren dan Tarikat: Tradisi-Tradisi Islam Di Indonesia. Bandung: Mizan. 1999.
----------. "Kitab Kuning: Books in Arabic Script Used in the Pesantren Milieu", dalam Bijdragen tot de Taal-, Land- en Volkenkunde no. 146. Vol. 1 thn. 1990.
----------. "'Traditionalist' and 'Islamist' pesantren in Indonesia" dalam https://dspace.library.uu.ni/bruinessen_04_tradisionalist_ and _'Islamist'_ pesan¬tren¬_ in¬ Indonesia/24-25 May 2004/diakses 29-Maret-2018.
Bull, Ronald Lukens-. "The Traditions of Pluralism, Accommodation, and Anti Radicalisme in The Pesantren Community" dalam Journal of Indonesia Islam, Vol. 02, No. 01 Juni. Surabaya: UIN Surabaya, 2008.
Dhofier, Zamakhsyari. Tradisi Pesantren; Studi Pandangan Hidup Kiai dan Visinya Mengenai Masa depan Indonesia. Jakarta: LP3ES. 2011.
Drewes, GJW. New Light on the Coming Of Islam to Indonesia? Dalam "Bijdragen tot de taal-,land-en Volkenkunde, Vol. 124. No. 4. Thn. 1968", 438-441. Diakses melalui JSTOR pada hari Minggu tanggal 25 Maret 2018.
Fox, James J. Current In Contemporary Islam in Indonesia. Makalah yang dipresentasikan di "Harvard Asia Vision 21" pada 29 April – 1 Mei, thn. 2004. diakses melalui website resminya, Error! Hyperlink reference not valid.
Geertz, Clifford. Agama Jawa: Abangan, Santri, Priyayi Dalam Kebudayaan Jawa. Depok: Komunitas Bambu. 2013.
Horikoshi, Hiroko. Kiai Dan Perubahan Sosial. Jakarta: P3M, 1987.
Jauss, Hans Robert. Toward and Aesthetic of Reception; Theory and History of Literature, Volume 2. USA: The University of Minnesota Press. 2005.
Jābirī [al], Muḥammad 'Ābid. Takwīn al-'Aql al-'Arabī. Beirut: Markaz Dirāsat al-Wiḥdah al-'Arabiyyah. t.th.
Miller, Elizabeth Carolyn. "Literature and the Late-Victorian Radical Press" dalam Journal Literature Compass. Vol. 7. No. 8 tahun 2010.
Rahardjo, M. Dawam, Pergulatan Dunia Pesantren. Jakarta: P3M. 1983.
Steenbrink, Karel A. Beberapa Aspek Tentang Islam Di Indonesia Abad Ke-19. Jakarta: Bulan Bintang. 1984.
Suyūṭī [al], Jalāl al-Dīn al-Maḥallī dan Jalāl al-Dīn, Tafsīr al-Jalālayn bi hāmish al-muṣḥaf al-sharīf bi al-rasm al-'uthmānī. Beirut: Dār al-Ma'rifah, t.th.
Shujā', Abū Aḥmad ibn Ḥusein ibn Aḥmad al-Aṣfihānī. Matn Abī Shujā' al-Musammā al-Ghāyah wa al-Taqrīb. Mesir: Maktabah al-Jumhūriyyah al-'Arabiyyah. t.th.
Ziemek, Manfred. Pesantren Dalam Perubahan Sosial. Jakarta: P3M. 1986.
Wawancara
Wawancara dengan KH. Afifuddin Muhadjir, Pengampu Tafsīr Jalālayn di Pondok Pesantren Salafiyyah Syafi'iyyah Sukorejo Situbondo pada Hari Ahad, 24 November 2017.
Wawancara dengan KH. Abdullah, Pengampu Tafsīr Jalālayn di Pondok Pesantren Zainul Hasan Genggong Probolinggo pada tanggal 12 November 2017.
Wawancara dengan KH. Zuhri Zaini, Pengampu tafsīr al-jalālayn dan pengasuh pondok pesantren nurul jadid paiton probolinggo pada 20 November 2017.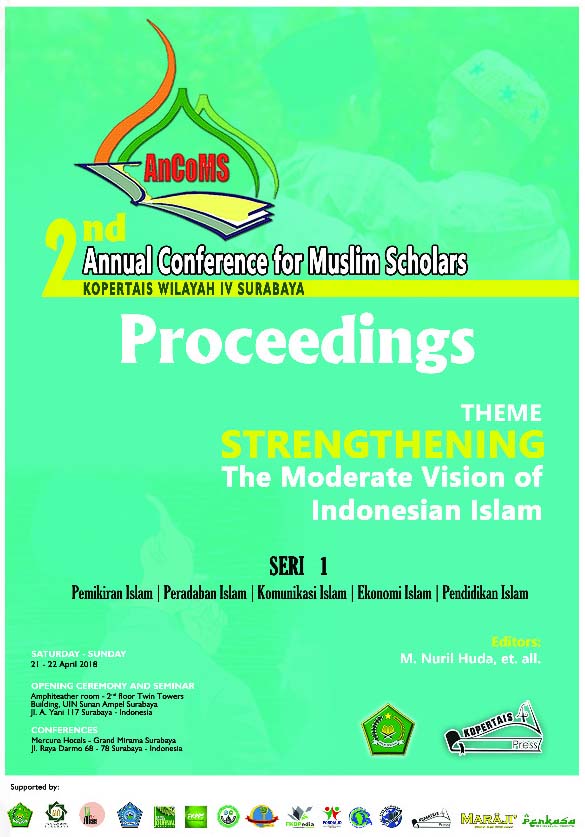 How to Cite
Fawaid, A. (2018). Survei Bibliografi Kajian Tafsir dan Fikih di Pondok Pesantren: Kajian Atas Materi Radikalisme dalam Literatur Pesantren dan Respon Kiai Terhadapnya. Proceedings of Annual Conference for Muslim Scholars, (Series 1), 161-172. https://doi.org/10.36835/ancoms.v0iSeries 1.118