The Ideological Transformation And Fragmentative-Ambiguity of Global Salafism
Rizqa Ahmadi

IAIN Tulungagung
Keywords:
Salafism, wahabism, jihadi, Arab spring.
Abstract
Global salafism is a new issue compared to salafism in a simple sense. Initially salafism is not as massive as it has been symptomatic in these last years. His movement remains a embodiment among intellectuals and the Islamic movement observers. From the previously documented study of literature and research data, it shows that global salafism is a dynamically transformed movement. Starting from the purification of Islamic teachings to fragmented into various branches and streams. This deversification marks global salafism as an ambiguous and fragmentative movement. Ambiguous because it is inconsistent on one type of doctrine, even in the same source they are fighting for a truth claim. While called fragmentative because the movement is fragmented into various colors so it is not easy to recognize it for sure.
Downloads
Download data is not yet available.
References
Adraoui, Mohamed Ali. "Salafism in France: Ideology, Practices Adn Contradictions." United Kingdom: C. Hurst & Co, 2009.
Atho'illah, Akhmad Yunan. "Meraba Wajah Global Salafi Jihadi: Sublimasi Dialektis 'Wahabisme – Qutubisme' Dan Tatangan Masa Depan Perdamaian Dunia." UIN Surabaya, 2011.
Burdah, Ibnu. "Teror Mesir, ISIS, Dan Mengapa Tarekat Sufi Jadi Target." GEOTIMES (blog), November 27, 2017. https://geotimes.co.id/kolom/internasional/teror-mesir-isis-dan-mengapa-tarekat-sufi-jadi-target/.
David, Commins. The Wahabi Mission and Saudi Arabia. London: I.B. Tauris, 2006.
Hasan, Noorhaidi. Ideologi, Identitas Dan Ekonomi-Politik Kekerasan: Mencari Model Solusi Mengatasi Ancaman Radikalisme Dan Terorisme Di Indonesia. Yogyakarta: Prisma, 2010.
Hasan, Nurhaidi. "Ambivalent Doctrines and Conflict in The Salafi Movement in Indonesia," 169–88. United Kingdom: C. Hurst & Co, 2009.
Hegghammer, Thomas. "Jihadi-Salafis or Revolutionaries? On Relegion and Politics in The Study of Militans Islamism." United Kingdom: C. Hurst & Co, 2009.
Howell, Julia Day. "Indonesia's Urban Sufis: Challenging Stereotypes of Islamic Revival." ISIM Neswletter. 2000, 6 edition.
Husain, Ed. The Islamist: Why I Joined Radical Islam in Britain, What I Saw Inside and Why I Left. Penguin, 2007.
Husein, Ed. Matinya Semangat Jihad: Catatan Perjalanan Seorang Islamis. Pustaka Alvabet, 2008.
Joas, Wagemakers. "The Transformation of Radical Concept: Al-Wala' Wa Al-Bara' in the Ideology of Abu Muhammad Al-Maqdisi," 81–106. United Kingdom: C. Hurst & Co, 2009.
Lcroix, Stephane. "Between Revolution and Apoliticism : Nasir Al-Din Al-Albani and His Impact on the Shaping of Contemporary Salafism." United Kingdom: C. Hurst & Co, 2009.
Meijer, Roel. "Commanding Right and Forbiding Wrong as a Principle of Social Action: The Case of the Egytian Al-Jama'ah Al-Islamiyya," 2009th ed. United Kingdom: C. Hurst & Co, n.d.
———. Global Salafism: Islam's New Religious Movement. Columbia University Press, 2011.
Muzammil, Iffah. "Global Salafisme Antara Gerakan Dan Kekerasan." Teosofi: Jurnal Tasawuf Dan Pemikiran Islam 3, no. 1 (October 23, 2015): 211. https://doi.org/10.15642/teosofi.2013.3.1.211-233.
"Olivier Roy: Untitled." Accessed December 1, 2017. http://essays.ssrc.-org/sept11/essays/roy.htm.
Rahmat, M. Imdadun. Arus Baru Radikal Islam (Rev). Erlangga, 2005.
Rofhani. "Melacak Gerakan Radikal Islam Dari Wahabisme Ke Global Salafisme." Religio: Jurnal Studi Agama-Agama 5, no. 2 (2015): 66–91.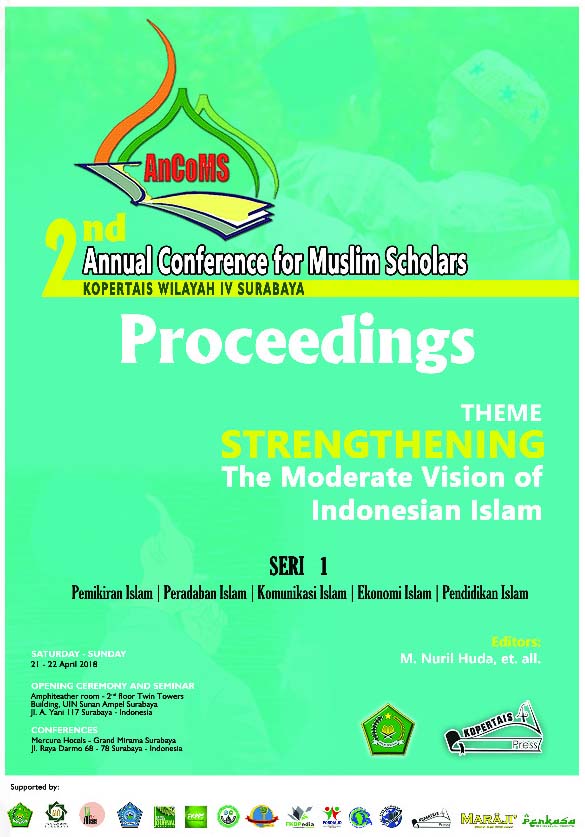 How to Cite
Ahmadi, R. (2018). The Ideological Transformation And Fragmentative-Ambiguity of Global Salafism. Proceedings of Annual Conference for Muslim Scholars, (Series 1), 100-113. https://doi.org/10.36835/ancoms.v0iSeries 1.114