Islam Moderat sebagai Penangkal Radikalisme
(Studi Terhadap Pemikiran Abdurrahman Wahid dan Quraish Shihab)
Mahmudi Mahmudi

Institut Ilmu Keislaman Annuqayah Sumenep
Keywords:
Islamic Radicalism, Moderate Islam, Abdurrahman Wahid, Quraish Shihab
Abstract
The radicalization of religion is a religious problem that needs to be solved. If there is no solution, religious radicalization will lead to our national divisions. Thus, it is necessary to examine the Abdurrahman Wahid and Quraish Shihab's thought. Both figures offering a flexible, soft, and far from violent and radical Islam. The method of writing in this article is descriptive and explorative method. This paper found the conclusion that the moderate Islamic thought of Abdurrahman Wahid and Quraish Shihab is characterized by Tolerance, Compassion, plurality of interpretation and spirituality. The moderate Islamic thought of these two figures can be a deterrent to the current flow of radicalism.
Downloads
Download data is not yet available.
References
Abdul Wahid Hasan, Gus Dur: Mengarungi Jagat Spiritual Sang Guru Bangsa, Yogyakarta: Ircisod, 2015.
Abdurrahman Wahid, Prisma Pemikiran Gus Dur, Yogyakarta Lkis, 2000
Abudin Nata, Tokoh-tokoh Pembaruan Pendidikan Islam di Indonesia, Jakarta: Raja Grafindo, 2005.
Caswiyono Rusydi, "Menggugat Agama Komunal, Membangun Agama Kebajikan" dalam Jurnal IDEA Fakultas Ushuluddin, Vol. 19 Oktober 2003
Douglas E. Ramage, "Pemahaman Abdurrahman Wahid tentang Pancasila dan Penerapannya", dalam Ellyasa KH Dharwis (ed.), Gus Dur, NU dan Masyarakat Sipil, Yogyakarta: Lkis, 1994.
Frithjof Schuon, Tasawuf: Prosesi Ritual Menyingkap Tabir Mencari Yang Inti, Jakarta: Raja Grafindo Persada, 2000
Greg Barton, Biografi Gus Dur, (Yogyakarta: Lkis, 2002), 135.
Islah Gusmian, Khazanah Tafsir Indonesia: Dari Hermeneutika hingga Ideologi, Cet. 1, Jakarta: Teraju, 2003.
Mahbub Junaidi, Rasionalitas Kalam M. Quraish Shihab: Telaah atas Pemikiran Kalam dalam Tafsir al-Mishbah Kediri: Mahdi Pustaka, 2011.
Munawar Ahmad, Ijtihad Politik Gus Dur Analisis Wacana Kritis, Yogyakarta: Lkis, 2010
Quraish Shihab, Islam yang Saya Anut, Jakarta: Lentera Hati, 2018.
Saiful Amin Ghofur. Profil Para Mufasir al-Qur'an. Yogyakarta: Pustaka Insan Madani, 2008.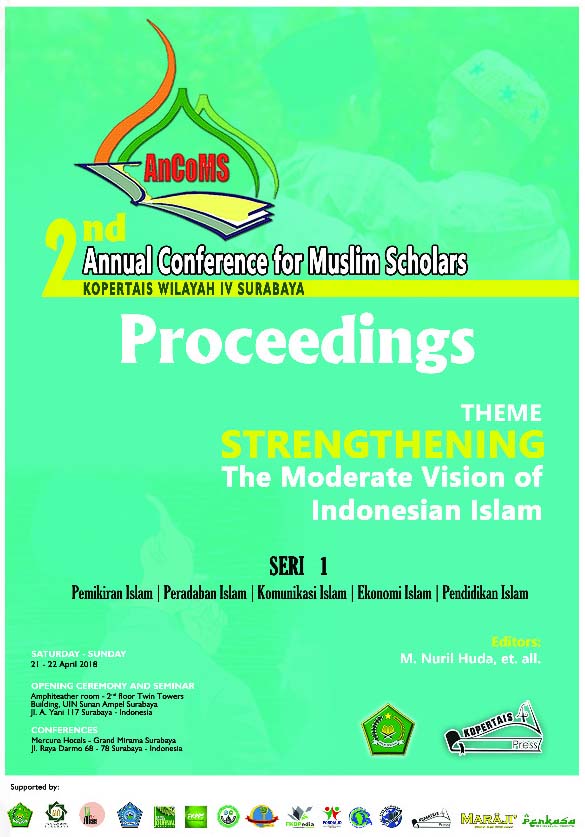 How to Cite
Mahmudi, M. (2018). Islam Moderat sebagai Penangkal Radikalisme. Proceedings of Annual Conference for Muslim Scholars, (Series 1), 82-91. https://doi.org/10.36835/ancoms.v0iSeries 1.112