Tren Jilbab Syari dan Polemik Cadar Mencermati Geliat Keislaman Kontemporer di Indonesia
Fathonah Fathonah

STAI AL HIKMAH TUBAN
Keywords:
The shar'i Jilbab, Cadar, The Rise of Contemporary Islam.
Abstract
Jilbab, either as a fashion or term, was new known in Indonesia in the 1980s. Although when it got opposition from the ruler, but the unstoppable flow of jilbab flooded the campuses and urban community. thus the new term appears 'shar'i jilbab' and later there is growing fashion dress called cadar. Both the shar'i jilbab or cadar, have full of meaning, importance and full of power, indicating a kind of turmoil of the rise of contemporary Islam from young people in Indonesia. This paper attempts to examine the trend of jilbab and its development to the controversial of the cadar, including what the symptoms are caused in the phenomenon. This paper also provides arguments about the dogmatic religious concepts of the veil system as a form of dress instruction in Islam or only Arab tradition.
Downloads
Download data is not yet available.
References
Abdul Aziz et al., Gerakan Islam Kontemporer di Indonesia, (Jakarta: Pustaka Firdaus, 1984),
Abdussalam, Kiai Bisri Syansuri, (Jombang: Yayasan Mambaul Maarif & Pustaka Idea, 2015)
Ahmed, Leila. Women and Gender in Islam: Historical Roots of a Modern Debate. New Haven, CT: Yale University Press, 1992.
Atiyah Saqar, Hijab antara tasyric dan sosial. Terj. Kuala Lumpur: Jasmin Enterprise, 2005.
Abdul Halim Abu Syaqqah, Tahrĩr al-Mar'ah fĩ cAsr al-Risâlah, Juz IV, (Mesir: Darul Qalam lil-nasyr wal-Tauzi')
Al-Bacalbaki, Rūhi. Al-Mawrid: Qâmūs carabĩ-Inklĩzi. (Beirut: Dâr al-cilm li al-Malâyin, 1993). Fifth Edition.
Al-Qur'ân al-Karîm.
Asghar Ali Engineer. 2003. Matinya perempuan. Terj. Yogyakarta: IRCiSOD.
Badran, Margot. 1996. Feminist, Islam, and Nation: Gender and the making of modern Egypt. Egypt: The American University in Cairo Press.
El-Guindi, Fadwa. Jilbab antara kesalehan, kesopanan, dan perlawanan, Jakarta : Serambi, 2003.
Farzaneh Milani. Veils and Words: The Emerging Voices of Iranian Women Writer, New York: Syracuse University, 1992.
Fathonah K. Daud, Jilbab, Hijab dan Aurat Perempuan (Antara Tafsir Klasik, Tafsir Kontemporer dan Pandangan Muslim Feminis), dalam Jurnal Al Hikmah (Jurnal StudiKeislaman), Vol. 3, no. 1, Maret (Tuban: STAI Al Hikmah,2013)
Hamka. 1980. Tafsir al-Azhar. Jakarta: Yayasan Nurul Islam.
Husein Muhammad, Fiqh perempuan: refleksi Kiyai atas wacana agama dan gender, Yogyakarta: LKiS, 2001.
Ibn Katsĩr al-Qurashi al-Damshiqi, Abu al-fida' Islamil. Tafsĩr Ibn Katsĩr. Jil 1. Beirut : 'Alam al-Kutub. Tanpa tahun.
Ibn Mâjah, Muhammad bin Yazid. t.th. Sunan Ibnu Mâjah. kitab al-taharah. No hadits 655. Juz 1. Kairo: Dar al-Hadits.
Ibnu Mandhur. 1976. Lisân al-'Arab. Jld. XI dan jilid XV. Rabat: Maktab Tansiq al-Ta'rib.
Kamala Chandrakirana & Yuniyanti Chuzaifah. 2006. The battle over 'new' Indonesia: religious extremism, democratization, and women's agency in a plural society. Dlm. Norani Othman (ed.). Muslim Women and the Challenge of Islamic Extremism, hlm. 49-77. Kuala Lumpur: Sister In Islam.
Khamami Zada, Islam Radikal, Jakarta:Teraju, 2002.
M. Luthfi Thomafi (Edit.). Konservatifisme versus liberalisme di tubuh NU. Kairo: LTNU Mesir.
Makhluf, Hasanain Muhammad, Safwatul Bayan Lima'ani al-Qur'an, Cairo: Dar al-Basyair, 1994.
Muhammad Ali al-Sais, Tafsir Ayat al-Ahkam, (Al-Azhar Kairo: Muhammad Ali Subaih, 1953),
Nashruddin Baidan.Tafsir bi al-ra'yi. Yogyakarta: Pustaka Pelajar, 1999.
Mernissi, Fatima, The veil and the male elite: a feminist interpretation of women's rights in Islam. NY: Addison-Wesley Publishing Company, 1991.
Mernissi, 1991, The veil and the male elite: a feminist interpretation of women's rights in Islam. NY: Addison-Wesley Publishing Company.
Mernissi, Fatima. 1997. Beyond the Veil, Seks dan Kekuasaan, Dinamika Pria dan Wanita dalam Masyarakat Muslim Modern. Surabaya: al-Fikri.
Nasaruddin Umar, (1995): Teologi Menstrual: Antara Mitologi dan Kitab Suci, dalam Jurnal Ulumul Qur'an, no. 2, vol. VI, Lembaga Studi Agama dan Filsafat & Ikatan Cendekiawan Muslim Indonesia.
Nasaruddin Umar, Antropologi Jilbab, dalam Ulumul Qur'an, no. 5, vol. VI, Lembaga Studi Agama dan Filsafat bekerjasama dengan Pusat Peranserta Masyarakat, 1996.
Nasaruddin Umar. Fenomenologi jilbab. Kompas. http://www.kompas.com/kompas-cetak/0211/25/dikbud/feno36.htm,
Pelras, Christian, Religion, Tradition and The Dynamics of Islamization in South-Sulawesi, vol. 29 (Archipel, 1985).
al-Qardlawi, Yusuf [et.al], Kebangkitan Islam dalam Perbincangan para Pakar (Jakarta: Gema Insani Press, 1998)
Al-Qurtubi, al-Jami' li Ahkam al-Qur'an, (tt: Dar 'Ulum al-Qur'an, 1998) jilid XII.
Al-Tabari, Abu Jacfar Muhammad ibn Jarir. t.th. Jamic al-bayan can ta'wil ayi al-Qur'an. t.tp : Syarikah Iqamah al-Din.
Al-Wahidi, Abu Hasan 'Ali, Asabab al-nuzul al-Qur'an, Tahqiq al-Sayyid Ahmad Shaqar, Dar al-Qiblat, 1984, Cet ke-2.
http://media-kitlv.nl/all-media/indeling/detail/form/advanced/start/4?q_searchfield=polim, diakses pada 16 Maret 2018. Pkl. 12.10 wib.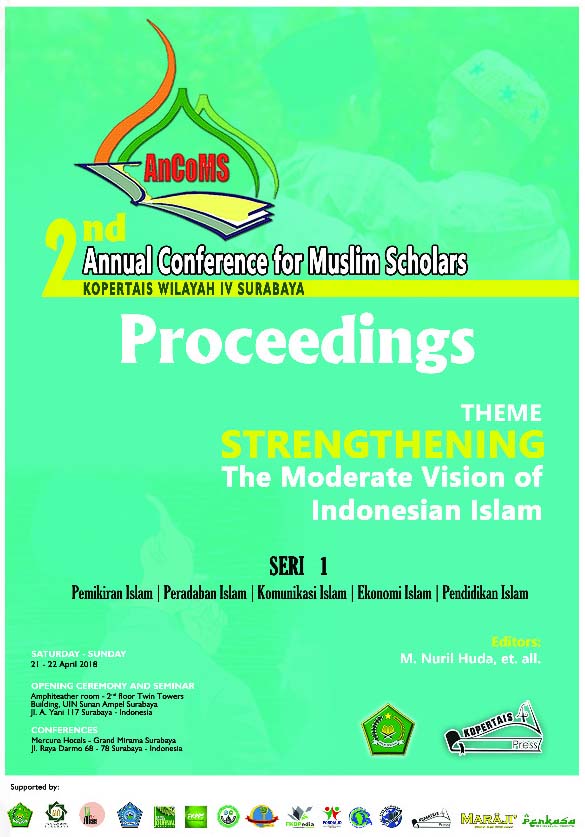 How to Cite
Fathonah, F. (2018). Tren Jilbab Syari dan Polemik Cadar Mencermati Geliat Keislaman Kontemporer di Indonesia. Proceedings of Annual Conference for Muslim Scholars, (Series 1), 39-53. https://doi.org/10.36835/ancoms.v0iSeries 1.110